How I'm So Productive
A short blog post today, just a couple apps and tips around how I am so productive… Probably because I only use a very limited number of apps, hence the small length of this blog post.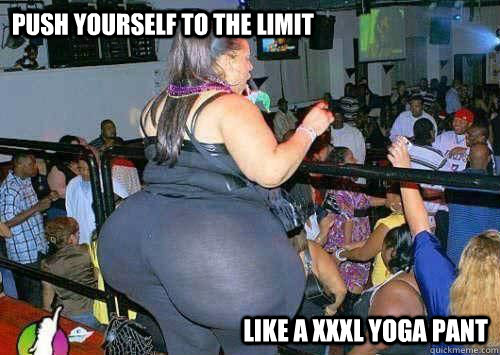 Now, without further ado…
---
I probably get asked this question about ten times a week… People don't know how to motivate themselves, they get to caught up in one specific task, or just forget to do things.
I herald myself as one of the people who can do a LOT in a very short amount of time. I'd class myself as pretty productive, especially by the amount of content I've been putting out recently – This is the 9th post this month.
I wrote this post in about 4 hours, whilst also writing a guest post, buffer'ing out a load of content I've been featured in and I've read this past few days, and having about 10 different conversations on Facebook and Skype.
---
My process is pretty simple, I use a few different tools and apps to help me along the way, but it's pretty much boiled down to 3 main steps.
Step 1 – Schedules
Scheduling is really important, it means you don't have to remember to do certain things, and as I'm really forgetful with all that I have going on… Without scheduling, I'd miss 90% of the things I should've gone to or shared.
Calendar –
Whether it be consulting, meetings, webinars… Whatever, I use (some black hats are going to cringe here) Google Calendar – It's simply the best calendar app on the market, and integrates straight into my android phone without downloading and configuring any additional apps. Whenever I have an event coming up soon, it notifies me on my phone, which I have on my at all times anyway.
Reading –
I normally set aside around an hour a day where I try and read as much as I can, from as many different areas in internet marketing as I can.
As I don't want to spend 30 minutes of that hour every day trying to find content, I use an app called Instapaper. With the click of a button in my browser, I add a page to read later. I simply go back to my Instapaper home when I want to spend that hour of reading and go through the posts that stand out to me the most, this works brilliantly with the next step.
Social Media Scheduling –
I use Buffer with a business account, though most of you will just require a standard upgrade which is $10/month – cheap for what you get.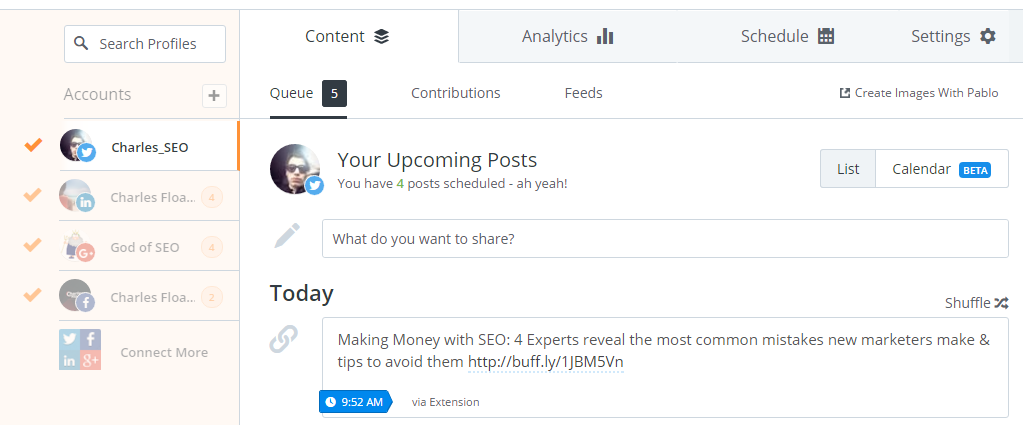 Buffer allows you to easily schedule shares on Facebook (pages), Twitter, Google Plus and LinkedIn. It also has a built in "best time to post" configuration which analyzes your social profiles and let's you automatically set the best times to share content – You can set the best times to share for each of your social profiles, so you're optimizing your scheduling for each social network you're on.
They have a browser addon that let's you share a page whilst still being on it – Meaning if you get halfway through a blog post and like it, then you can easily add it to your queue.
Buffer has actually significantly increased my social traffic and engagement – My fanpage has seen a lot higher engagement since I started re-using the app 2 months ago.
I also do a "What I Read" page which features my favourite posts from that days hour of reading.
Step 2 – Organization
This is where I'm naturally really bad, organization isn't my strong suit and without apps (and people) I'd probably not be able to function efficiently or effectively at all.
Google Calendar is an obvious addition to this section, but I've already covered it in step 1.
Trello –
Trello is a productivity app that is essentially like having a whiteboard in front of you and a bunch of sticky notes. Though you can't attach files to a sticky note.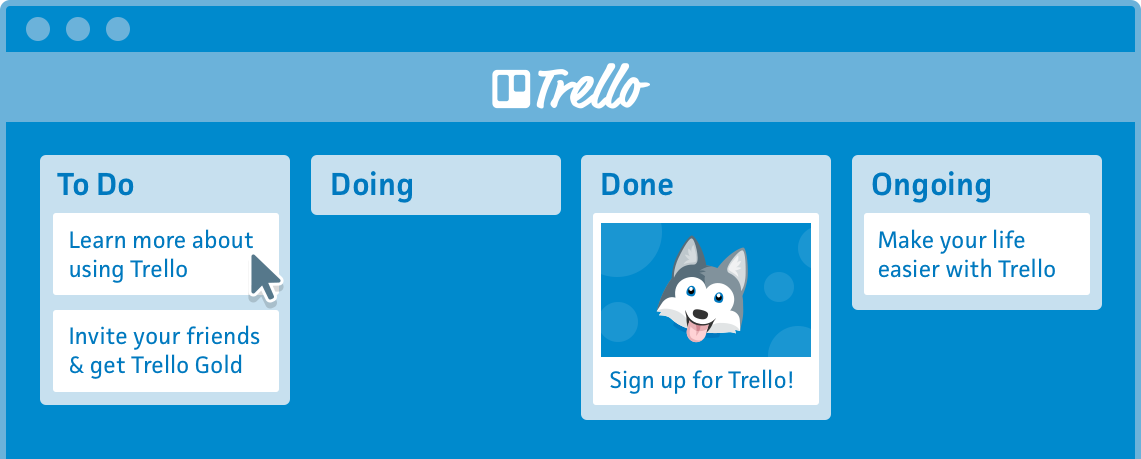 I've used Trello for about 4 years now and I have boards for pretty much every aspect of my day…
Board for my graphic designer
Board for my web developer
Board for every client
Board for every affiliate site/project
And so on…
It makes retaining data a lot easier, as it's all in one place and the best bit? I've never paid a penny. Though I'm going to email their support and ask for a place to submit a donation due to me using this tool so much, I want to give back.
Step 3 – Speed
The ability to type fast can't really be taught – Though (seriously) I suggest playing a competitive video game like Starcraft or League of Legends, as playing Starctaft professionally when I was younger taught me to get to over 300 APM (actions per minute on the keyboard) which helps me a lot when producing large amounts of content on my blog and for other projects.
I have however found that these things help with speeding up projects:
Put your phone on flight mode
Close any non-current task browser tabs
Shut down any IM apps like Skype or Messenger
Have a clear vision of what you want to do
Removing any distractions is the way forward, and preparation is never a bad thing – Though smaller tasks (<20 minutes) shouldn't require any preparation, or you're just wasting more time.
Thanks For Reading
I hope you enjoyed this post, and it helps you get more productive with your days (and nights).
Don't forget to join my newsletter, and drop a comment below with any productivity hacks you use… Also, drop a comment if you'd like to see a post on "How I Write EPIC Blog Posts So Quickly" as it's something I have in mind, though I'm not sure how many bloggers are in my audience.