Monthly Traffic Report – November 2015
A very popular series on the God of SEO Blog was my Income Reports, though I feel as I move into a more mature environment with this blog that showcasing your income every month isn't all that useful. However, I do still think detailing your blogging efforts and marketing efforts every month is helpful, especially to those who have just started out in internet marketing and/or blogging. So, my Monthly Traffic Report is born.
[divider type="thin" spacing="7″]
As I only started back blogging in the last few weeks, I'll be detailing this report from Oct. 28th (when my first post since I've been back went live) to November 30th. I'll normally only be doing from the first until the last day of each month, but this month will be the only exception to that rule.
Content
I aimed to put out some really high quality stuff in November, and I think I achieved that.. Especially with the amount of engagement my posts were getting when I released them.
Here's the posts I put out this month, in order of traffic:
Here's a full view of my most viewed pages in November –

Features –
I occasionally do interviews, podcasts and get my content featured by other IM'ers around the industry. Here's the features I got in November:
SEO Profits Podcast – Gabriel invited me onto his show to talk about the SEO industry and how I am moving forward and changing the approach of my business. It's a 45 minute podcast, and I recommend you check out his other episodes, which include Mark Luckenbaugh, Ryan Stewart and James Norquay.
The Times – I did an interview with one of the oldest and biggest newspapers in the UK in which I gave my insight into the mind of a young hacker. The Times is a subscription model, so I put the full interview here for free as well. I also did a similar interview with BBC News and Channel 5 News.
Traffic & Stats
In November, I mainly focused on getting content out and re-branding everything under this new blog. I didn't spend too much time on marketing the content I'd put out, but December will be when the traffic steps up a gear, even though it's the holiday periods.
A Traffic Overview –

Visitors: 9,341
Unique Visitors: 6,033
Pageviews: 20,441
I will admit, I was expecting there to be a lot less traffic than this in my first month back, but it's seen some pretty good numbers. Comparing this period to the last and it grows over 2,200% in visitors.
Top Traffic Sources –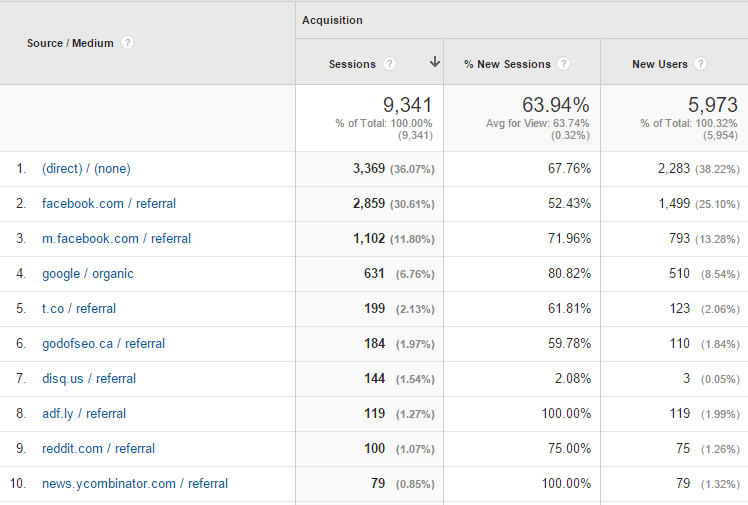 As I predominantly market myself using Facebook, it's no wonder that's where most of the traffic is coming from. Notably though, my organic traffic has grown by over 300% as compared to October and submitting a few of my posts to Reddit and Hacker News has also bolstered some visits. It's surprisingly hard to get marketing related traffic from Reddit though, most of the bigger subreddits are text only and have very tight submission rules.
As I move GoS into an archived state, I'll also likely be getting a lot more traffic from there. So I'll make sure to keep an eye on that for the next traffic report.
Social Presence –
In every month proceeding this post, I'll be showcasing the growth of my social presence, but for this month I have no data to compare it to the last. So I'll just be detailing my social following for the end of November and in December I can then show the growth (or decline) per platform.
(All as of 30th of November, 2015)
Thanks For Reading
I hope you enjoyed this months traffic report, don't forget to signup to my newsletter here and if you'd like to see anything else in the next months report, drop a comment below.