An Intro From Charles
Before we get into this post, I wanted to welcome Doug (who's the first person to formally guest post on my blog) from Niche Site Project, I've known Doug for a while now and after I've covered transitioning from black to white hat in the past.. His idea for this post interested me.
So without any further ado, I'll hand it over to Doug.
My Gateway "Drug" = A Podcast
It was an average March morning in Atlanta, Georgia. I was out walking my dog, Brodie. I like to listen to podcasts while we walk, and at the time I was really into podcasts about beer but that morning I wanted a change of pace – something that wasn't about beer for once. (Aside: I'm a BJCP-certified beer judge.)
I opened up my podcast app and started browsing the top charts and saw an eye-catching podcast cover art. It was black and green and had the top half of someone's face on it with the eyes looking up.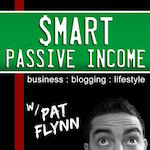 I didn't know that listening to episode 1 of Smart Passive Income (SPI) would change my life.
I'm about to tell you a goal that I have, and it's a goal that I would have laughed at before discovering SPI.
The $500k Goal
The goal is to sell a niche site for over $500,000. One of the primary tasks to accomplish this is to get rid of all the Gray Hat backlinks, including Private Blog Network (45 links), to improve the saleability and value of an Amazon Affiliate Niche Site.
Before we get started with all the details, I'm giving you the templates that I used. Additionally, I'll also give you 15,000 profitable keywords (from REAL Amazon Affiliate Niche Sites), just in case you don't have a niche idea yet. Get Access Now.
The PBN links must be replaced to keep the rankings, traffic, and revenue stable (or even improved) so I have to get a lot of guest posts. This article covers the replacement of the PBN links since that's the part that will ensure a very high valuation for the site
Profits and Traffic (And Why You Should Listen To Me…)
Let's look at the baseline stats for the site. There are a lot of charlatans online in this internet marketing industry so I'm sharing these stats. It's not to brag but to get credibility fast.
This is not some dinky site making $48 per month, at least not anymore. In 2016, the site made over $136,884 and 781,954 visitors came to the site.

Way back, the site started like all Amazon Affiliate Niche Sites: Small and with no traffic.
My partner started the site back in October 2014, and it slowly grew in traffic and revenue. It matured, and by December 2015 the site earned over $10,000 for the first time. I joined as a partner in September 2016 for Project Go White Hat, and that's noted in the earnings chart above with the big green arrow. When I say "we" in this post, I'm talking about my partner and me.
The site grew by 40% in terms of traffic and revenue a month after I joined, and by 300% comparing September to December. Yes, some of that was due to an exceptional retail season, but a lot of it was from a content improvement technique that I'll go over later.
New Ground
This is new ground for a case study and I haven't seen a detailed plan or guide out there to convert a site from Gray Hat to White Hat, though it's in Charles's course.
(New to SEO?  White Hat: Strategies that don't violate the Google Webmaster Terms of Service. Gray Hat: Strategies that violate the Google Webmaster Terms of Service.)
If someone has a site making $10,000 per month and knows they can sell it for $200,000 to $300,000, then they normally take the money and run. Check out this valuation tool from Empire Flippers for a reference point on website values.
We're aiming higher. A white hat site will command a higher monthly multiple than a gray hat site. I tweeted Justin from Empire Flippers and he said this:
@NicheSitePM Higher end for white hat. Lower end for gray. More variables than that though

— Justin Cooke (@EmpireFlippers) February 4, 2017
Why are white hat sites more valuable, you ask? It's less risk. If someone, or more likely an investment group, is buying a site for hundreds of thousands of dollars, then they prefer less risk if all else is equal.
This is a big-ass project, spanning many months and hundreds of hours. As I'm writing this, I've been working on the site for over 5 months and my partner has been working on the site for over 2 years.
In my former life, I was a Project Manager on big software projects. Those projects lasted about a year on average and were large-scale and complicated. It turns out that my project management background is a huge asset for a project like Project Go White Hat.
The Unknowns
There are a lot of unknowns in this project. That's one of the bad things about doing something that people haven't talked about much.
There are three main blind spots and we'll look at them individually:
How Many Guest Posts Are Needed?
What Happens When The PBN Links Are Removed?
How Long Does It Take For The Guest Posts To Boost Rankings?
How Many Guest Posts Are Needed?
"Informed decision-making comes from a long tradition of guessing and then blaming others for inadequate results."

-Scott Adams
Private Blog Network backlinks are normally on the homepage or sometimes on a strong and authoritative URL of a site. That way the domain will provide the most link juice possible.
We don't know how many guest posts are needed to replace the linking power of 45 PBN links. We could try to calculate the number of guest post by looking at the Domain and Page Authority or the Trust and Citation Flow of the PBN links, but there isn't much value in that for the below reasons:
The DA, PA, TF, and CF are all just approximations based on the backlink indices of some software companies. That means the "calculations" will be pretty inaccurate – enough to make them a waste of time.
The newly published guest posts will be starting with no backlinks, and, therefore no DA, PA, TF, and CF values. You could look at the DA & TF of the domains to get some idea about what tier of websites to target for your guest posts, but again the accuracy won't be there.
I'll share a method from my old corporate gig:
SWAG
That stands for "Scientific Wild-Ass Guess." Applying the SWAG method got us to our original target of 45 guest posts, which later changed. (I talk about that in the results section.) Yep, we guessed.
What Happens When The PBN Links Are Removed?
I know the rankings should go down, but I have no idea how much or how long will it take for the rankings to decline. The timing is important since we don't want to sell a site and have the rankings tank for the new owner.
I've heard that removing backlinks don't always impact rankings quickly. Even though you may see some examples of sites moving up or down in less than 10 days, you can find examples of the opposite too.
I've heard people say it can take months for rankings to decrease after removing backlinks.
Thomas Smale from FE International mentioned waiting at least 3 months after removing the PBN links in a blog comment:

How Long Does It Take For The Guest Posts To Boost Rankings?
I have a lot of personal experience with guest posting rankings in the last 2 years. Basically, it normally takes 4-8 weeks for the ranking impact to manifest after guest posts go live. That's longer than a typical PBN link.
This is due to the fact that a PBN link is coming from an authoritative URL (i.e. the homepage or a URL with a lot of backlinks).
A brand new guest post has no backlinks and no age, so that means a backlink on a guest post isn't passing much link juice right away. If the guest post actually sends visitors to the target site, then it's a great sign to Google, but that often takes time.
When you consider the impact of acquiring guest posts and removing PBN backlinks, you see the timing is absolutely critical. If you remove the backlinks too fast and don't replace them with guest posts in time, then you risk killing the rankings, traffic, and most importantly, the revenue.
A mistake in the timing could dramatically impact the revenue of  a $10,000 per month site.
Hence, planning is key.
The Plan
"In preparing for battle I have always found that plans are useless, but planning is indispensable."

-Dwight D. Eisenhower
I also worked at a big management consulting company during my corporate career. So I treated this niche site like the large project that it is.
Here are the steps in that process:
Identify overall goals
Develop requirements
Create a project plan, schedule, and assign responsibilities
Take checkpoints and adjust as things change
Complete milestones along the way
Review the project after completion
Since there was significant revenue at stake, I elected to take a conservative approach, and I'll explain that further. Just remember the site was making five figures a month for three months in a row so the last thing I wanted to do was mess up that trend.
Get Guest Posts
The goal was to get 45 guest posts to replace the PBN links, basically one for one. That's quite a lot of guest posts!
Improve the Content
There are two main areas for the content improvement plan:
Improve the existing content. It was just plain bad.
Add more content. When I joined up there were about 45 posts and pages on the site.
Start Removing PBN Backlinks
This part was tricky since I didn't know the exact impact of removing PBN links or when I would see the impact. The bottom line is that 45 PBN links needed to be removed with ample time before selling so that we don't leave the new owner with a vulnerable site.
Execution and Results
"If your current get-rich project fails, take what you learned and try something else. Keep repeating until something lucky happens. The universe has plenty of luck to go around; you just need to keep your hand raised until it's your turn. It helps to see failure as a road and not a wall."

-Scott Adams
Get Guest Posts
The goal was to get 45 guest posts to replace the PBN links, while trying not to let the traffic and earnings suffer.
It's risky to outsource guest posting. If you pay for a service, you never really know if they are posting to a nice looking PBN or if they're doing legit outreach. You can actually get a good idea on the quality of the guest posting service from the pricing. The guest posting services that are cheap are probably not doing manual outreach.
Look, I used to run a guest posting service and I know it's hard to do. In fact, I raised rates consistently while I still had clients. People were paying up to $400 per post. The point is well done, manual outreach takes time and is expensive. (Note: I closed up shop for my guest posting service since it's way more profitable to rank my own sites than to rank other people's sites.)
You can see where I'm going with this. I stopped doing the client work and reassigned those resources to Project Go White Hat.
It started with a single outreach manager who hired a few prospecting specialists. The outreach manager is also in charge of getting content for the guest posts. That saves a lot of time for me since I can just work with the one outreach manager instead of several team members, like prospectors, writers, and editors.
The team worked quickly and we got the first ten guest posts just about 4 weeks. Check out this chart noting the progress: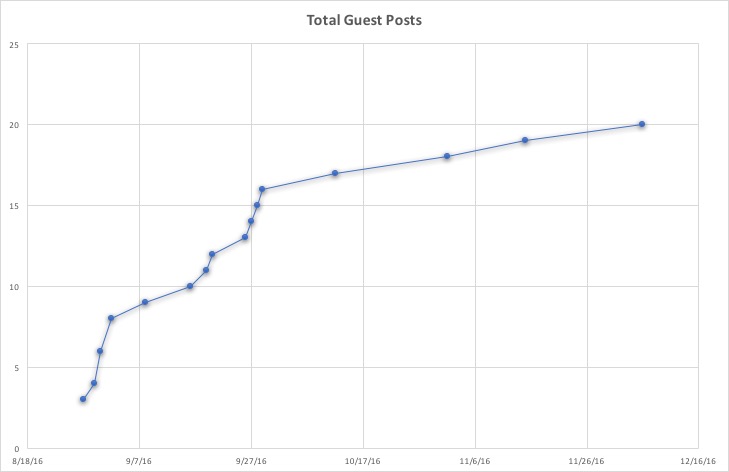 As you can see the guest post publishing progress started slowing down considerably in October. It wasn't too alarming at first, but it's becoming a problem because it's delaying the whole project! (If you are familiar with project manager, this means it is on the "critical path.")
There are at least a fews things that caused the slow down:
I wasn't managing the outreach manager very well.
I was too slow to react and adjust when the slowdown occurred.
The holidays tend to be slower for blogging since people take time off.
Right now, I am working on resolving the issues and hope we can gain some momentum. Here is what I'm implementing in phase 2 to help the guest posting campaign:
Added 3 outreach members.
Adopted a longer relationship building process where each team member has multiple touch points with a target blog before asking to guest post.
And the biggest difference is to target sites that DO NOT have a "write for us" or "contributors" page. (The thought is that these sites will be less inundated with guest posting requests)
The results are still pending since it's only been about 10 days since starting with phase 2. At this point we have dozens of blog comments in the niche. Each of the outreach members will be interacting with the bloggers and signing up for their email lists. If we email the bloggers by replying to one of their autoresponders, then the chances skyrocket that they will read and reply to the guest post request.
Here's the shared spreadsheet that the 3 member team is sharing for outreach. Each member has a tab like this one.

Improve the Content
There are two main areas for the content improvement plan:
Improve the existing content. It was just plain bad.
Add more content. When I joined up there were about 45 posts and pages on the site.
The funny thing about this site is that the content was just plain lousy. The actual content was written by your average freelance writer that didn't know the first thing about the products he was reviewing. I can't blame the writers since they did the job they were hired for.
I felt a little bad for the visitors though. Within a minute of reading just about any page, the visitor would realize the writer never even picked up one of the products being reviewed. It's amazing since the site was making so much money at the time.
The site wasn't big at 45 posts and pages, but reviewing and improving all that content would take a while. So, like any good project manager I applied Pareto's Law, or the 80/20, rule. Basically, I reviewed the traffic analytics to determine where most of the visitors go. After a few minutes of analysis, it was clear that about 80% of the traffic went to just 9 pages.

Improving the content consisted of the following tasks that I call the Research Paper Method:
Develop a set of questions that you have on the topic.
Find the top resources on the subject matter – just Google the topic.
Read the existing content on the topic so you have an understanding of the overall landscape. You'll be able to see how experts and other people organize the information.
Create an outline using the knowledge you have on the subject.
Write the "research paper," or even better, hire a writer to do it for you. The outline will help ensure that a freelance writer produce a great article for you.
Over a few days, I researched and created outlines for the nine target articles that accounted for 80% of the traffic to the site. Then, I hired a few writers to do the heavy lifting for me. If you're interested, I paid about $80 for 5,000 words or about 1.6 cents per word. The writers were from Upwork and U.S. based.
The second part is adding content. The goal is to sell this site for over $500,000, and a site with more content and more pages has a higher value, or at least a higher perceived value.
Wouldn't it be great to publish content, money content, and get traffic without getting links? Even if you're a link building machine, like many readers of Charles, publishing profit-generating content that doesn't require link building is a desirable strategy.
Here's how I did it: The Keyword Golden Ratio (KGR). If you haven't seen this yet, pay attention. It's an old-school way to think about keyword research.
Here is the ratio:
Allintitle / local monthly searches = Keyword Golden Ratio
*where the local monthly searches is under 250.
You want the ratio to be 0.25 or less. Do not use quotation marks for the 'allintitle' advanced search to get a true sense of the competition level. Watch a video explanation on YouTube.
The idea is that you're looking for keywords that are underserved on the internet and have very low competition. In short, the KGR tells you exactly how many pages on the internet are actually targeting that term. You are looking for keyword phrases that are searched for more than there are pages on the internet.
The big thing to remember is that you have to publish a large number of articles to make this a worthwhile endeavor. Inherently, the KGR model targets low volume keyword, and that's exactly why it works.
This method pays off when publish a lot of content. The goal was to publish about 60 articles. Again, I hired writers to help out on content. Here is a sample of a job posting that I use often, and I normally get an article with 500 – 700 words for about $10-15.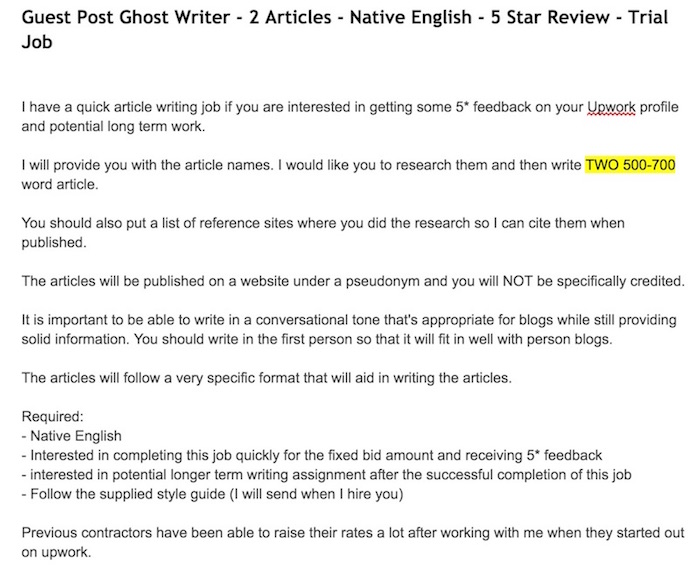 The spreadsheet below shows a sample of the traffic that the KGR content brought in over 90 days. When you consider that the content is affiliate content with reviews, you can see the potential for generating revenue with the Keyword Golden Ratio method.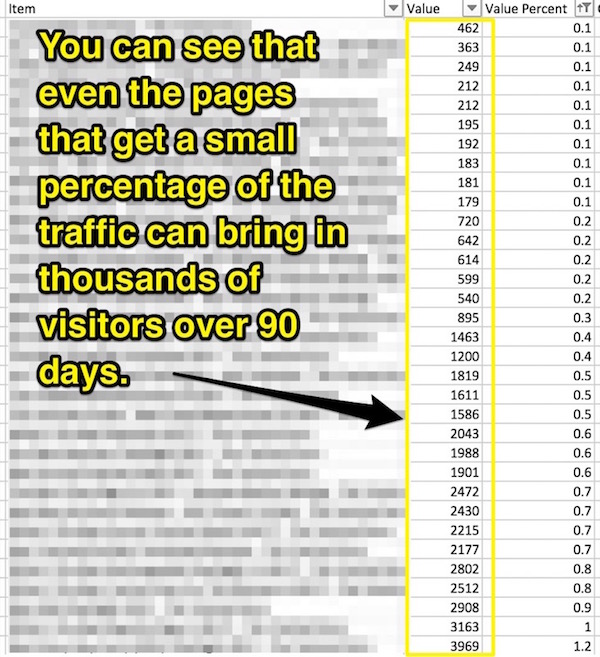 Start Removing PBN Backlinks
This part was tricky since I didn't know the exact impact of removing PBN links or when it would happen. Instead of spending a lot of time figuring out when to remove which backlinks, I decided to just make it simple and spend time on actually getting the guest posts.
There were 45 PBN backlinks so the simplest way was to remove the backlinks evenly over time. I wanted to remove the backlinks over a span of about three months, so 15 backlinks per month. Simple.
Now, I wanted to make sure that the site didn't lose rankings after the PBN links were removed. While I can't guarantee that, I could minimize the impact to traffic and rankings by getting a head start with guest posting.
That means that none of the PBN links were removed until after many of the guest posts were published. To be exact, I waited until 15 guest posts were live before actually removing any of the PBN links. It wouldn't be a surefire plan to preserve the rankings, but at least there would be a buffer of contextual backlinks on relevant blog posts while the PBN links were in the process of being removed.
Conclusion & Takeaways
We haven't sold the site yet and we are still behind the original schedule. The new timeline extends the project for 6 months longer than the original timeline.
On a positive note, the site ended up making more money than we expected over the last quarter of 2016, so we have a renewed interest in making the most out of the project.
Some of the next steps are to pursue guest posts in a different way which includes a longer period of relationship building. The outreach team will spend more time nurturing relationships with bloggers in hopes of improving the conversion rate of guest posts.
Takeaways
I presented a lot of information, so I want to breakdown some of the core principles of the process in a way that you can use them on any project.
Some of the takeaways will be concepts to apply to your problems and projects, and some of them will be templates that you can you use. Get the templates here – you'll have to enter your name and email address, but other than that, they're free. Plus, the freebies include over 15,000 keywords from profitable Amazon Affiliate Niche Sites.
Dealing with Unknowns
All projects, especially complex and long-term projects, have large areas where you just don't have all the information you need. A lot of people get hung up on the unknown.
They start researching a topic, dig deeper and deeper as they uncover information, and end up with even more questions. The uncertainty leads to inaction.
It's so common, in fact, that it's called "paralysis by analysis."
What do you do, then?
Make assumptions about what you expect to happen based on what you know. You should definitely revisit the assumptions as you gain more knowledge and information. If you know what information changes an assumption to a probability or even a fact, then you can track the prerequisite information.
All project plans have assumptions tied to them. As the project progresses, the assumptions are proven or tossed out.
The point is don't get paralyzed by the unknowns. Make educated assumptions.
Planning is Required
Some people feel like planning is too rigid. They say they don't want to be tied down by a schedule or list of tasks.
As Eisenhower said, planning is indispensable.
Plans will change and they should as you learn more about the project. However, the process of planning is essential.
Here is why:
Planning forces you to think about what is going to happen from the beginning to the end.
It makes you envision the process, which will bring out details that you would have missed otherwise.
At a minimum, you should list out all the steps that should happen in whatever your project is. Even if you don't look at that list again, you'll learn something in the process.
Execution
The two main areas of work were publishing guest posts and improving and adding content.
The guest post process for this project follows these steps:
Look for active blogs in the niche and related niches. For example, if your site focuses on yoga product reviews, then you should look at the overall fitness niche. Go further by looking at the outdoor and general health niches.
Build relationships with the bloggers by commenting on their blogs. Be nice and insightful. If people like you, then you'll have a better chance of getting a guest post published.
Don't ask for a guest post right away. Remember step 2…
Ask to write a guest post and pitch 1-3 ideas. Mention that the post would be a good one for them since it can contain affiliate links for products. Then, it's a piece of content that can make money for them, and they get it for free.
Be sure to link to your site in the body of the post so you have a contextual backlink. If you have other guest posts that are published on other blogs, definitely link to them! You'll be able to boost the authority of your other guest posts.
Share the guest post on your social media channels and thank the blogger.
Repeat.
You can get the templates I use for guest posting here.
Improving content is simple, in theory, but so many of us skip it. Reviewing content that's already published is boring.
Here's what to remember so you can get the benefits:
Don't worry about improving all of your content. Apply the 80/20 to reduce the amount of content that you have to deal with. Just look at the pages and posts that account for 80% of your traffic (or revenue).
Once you have the pared down list, you can go through each piece of content and determine if it needs a full overhaul or just a polish.
If the content needs a lot of work, then use the Research Paper Method to get it done in a systematic way.
Adding content can drive your traffic and revenue up, and if you do it right with the Keyword Golden Ratio, then you won't have to build backlinks to get the traffic. Here is the process for adding KGR-compliant content
Brainstorm keywords, do normal keyword research, and use tools like Ubersuggest to get long tail keyword ideas.
Process the keywords to find the hidden gems that meet the Keyword Golden Ratio.
Hire a writer or several writers to produce the content.
Publish the content as quickly as possible.
You can get the KGR spreadsheet here.
Thanks to Charles for letting me share my story here. I'm happy to answer any questions you have about the process.