For those that don't know me, I've been doing link building (both black hat and white hat) for the better part of 15 years now, worked at or ran multiple agencies myself and sold 2 of them for multiple 6-figure exits.
Unfortunately though, in that timeframe, I've also witnessed most of the backlink industry deteriorate into a profit-grabbing machine that often harms clients' rankings more than they help them.
Google hasn't gotten a whole lot better at detecting paid links over the last several years, and it's arguably gotten more important to have a higher number of links and more authority to truly compete.
Whilst relevancy is the biggest factor for most campaigns, 99% of the link building firms pull their domains from databases with very little actual vetting rather than any sort of niche blogger outreach.
Last year, I did a video on exactly this issue with the industry –
With that being said, not all of the players in the game are dishonest or play unfair and in this series of reviews I hope to show some agencies that you can trust to deliver some serious ROI on your campaigns – Just remember that not all of them will be specifically tailored to your needs, and it is highly likely you'll need to use several services (Which individually provide the best backlink type) to pull off a cohesive campaign that gets results across the board.
Almost all of the algorithm updates that have been released in recent memory have favoured authority more, with large sites taking up more of the pixel space and an even larger demand for quality, scalable backlink approaches that these services can provide.
In this blog post, I hope to show you some of the best and worst providers for those looking to get better and faster results with a powerful link building solution that is ideal for your site's needs – Which, unfortunately, there aren't all that many of left!
The 8 Best Link Building Companies
Truthfully, there aren't any specific overall best providers but instead an array of ones that are best at specific link types.
Here are my –
I will standby the reviews for all of these services and have thoroughly tested them out over several years of extensive use across many different campaigns, niches and even languages in some cases.
What Is Link Building?
One of the primary signals that search engines like Google, Bing and Yahoo look at when analyzing pages is the links that page has pointed to them.
Link building is the process of building those backlinks to improve the rankings of your website in the search engine, and gain your site relevant traffic in the process. You can think of this process as websites linking to your page voting for it, and that having more votes to your website shows the search engines that your content is worth putting in the search engine result pages (SERPs).
What Are Link Building Agencies or Services?
Just like you would have web design agencies, there are specific companies or services set up to handle the process and strategy of link building. Though if you're looking to hire an agency yourself then you need to choose wisely.
Do You Need A Link Building Service?
Most websites DO NOT need to hire a link building service, it's only usually reserved for those looking to rank in competitive industries or looking to boost multiple projects at once.
The majority of websites will only need foundational level links like social profiles and citations, as this massively improves indexation rates and helps Google further validate the authenticity of a business and its website.
That being said, most websites are run by real businesses or individual bloggers that don't need to spend money on link building or any type of agency… but, if you're trying to rank an affiliate website or going into very competitive niches like car insurance, loans or private medical care then you will often need to resort to either hiring an SEO agency itself or looking to bolster your OnPage campaigns with a link building service that knows what they're doing.
Link Building Can Be Dangerous
Like I said above, an agency needs to know what they're doing or they can very easily risk a client's rankings. There have been MANY horror stories from across the web of inexperienced clients getting fleeced whilst their website tanks as a result of dodgy work.
Unfortunately, the SEO industry (and much more so in the link building sector of it) is filled with cowboys that are looking to make a quick buck and don't care about burning clients as a result.
You want to make sure that you're dealing with –
A respectable company that has an extensive history and case studies
Professional support that can help you achieve your campaign goals
Know WHO the person is running the company and who owns it
WHERE your money is going to, so you know it's in safe hands
Without these 4 points, I wouldn't recommend any company or agency you'd be looking to take onboard – And no, Fiverr doesn't usually offer any of the above in any of the services on the platform, though of course there are outliers.
I've ensured that every one of the services featured inside this post has the 4 above criteria covered, so you can put your mind at ease when looking to use one of them.
Don't Buy Links Based On Metrics Alone
Metrics like domain authority, domain rank and organic traffic can very easily be manipulated to the point that you can buy packages on Fiverr to boost the metrics to 50+ for just $100 –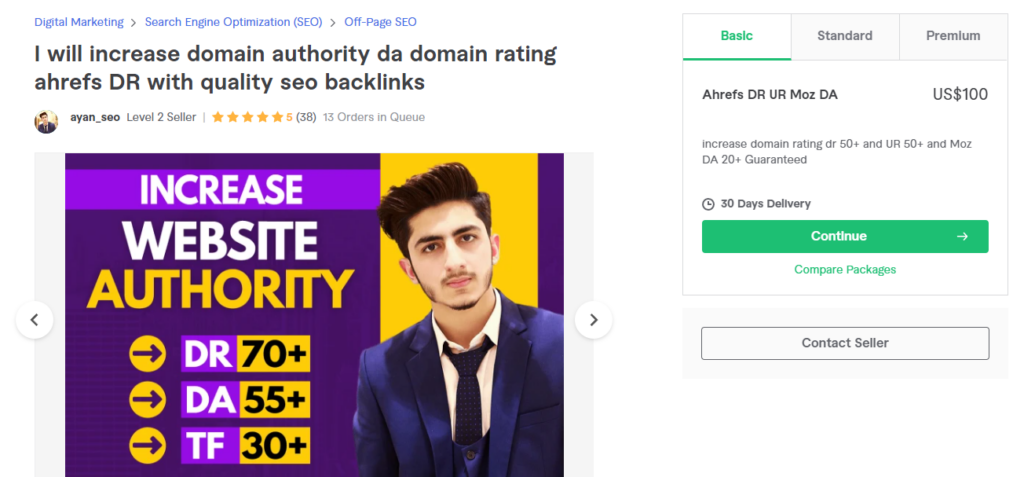 If the service can't show you the domains they'll be building the links on or at least some niche samples prior to the order, then it's a massive red flag.
Remember that you should base your purchases and who you trust to fulfil these orders on your link building strategy, and it's often a good idea to work with the vendors to let them know what that looks like and how they can improve the end delivery.
Link Building Company Reviews
In this section, I'll give a thorough breakdown of each of the companies I have recommended in this post, why they deserve to be here, and why you should potentially use them yourselves.
HighRise Links Review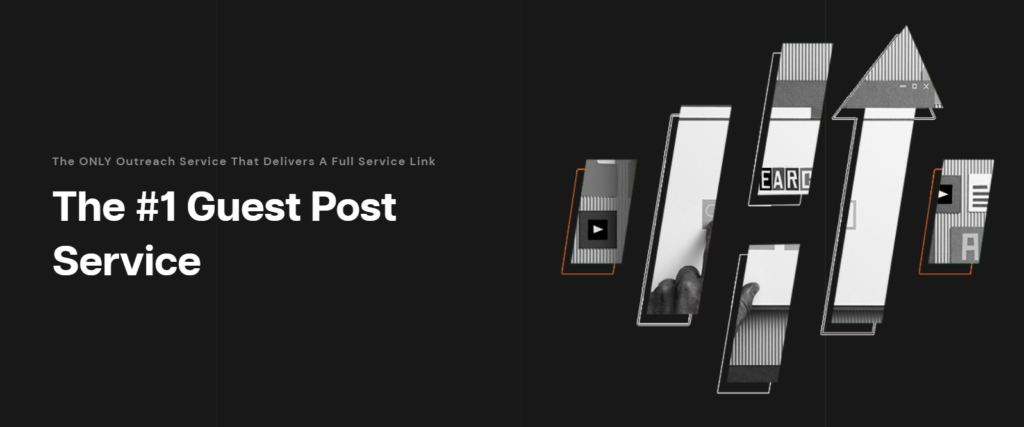 Disclosure: I am a partner with HighRise, and have a vested interest if you decide to use them. That being said, I have spent countless hours making sure the service is robust so you know this review is coming from a place of trust rather than of self-promotion – If you aren't satisfied with that, then in 2nd place I would have put ReachCreator, so you can choose to use them instead if you wish.
---
In terms of industry standards, HighRise is leaps and bounds ahead of basically any other guest posting service in the game – Not only does the process mean you get links tailored specifically to your needs, metrics and approval but it is the only agency that will never deliver an orphan guest post.
That means that you get FREE internal linking from other relevant posts on the site to your guest post, a tier 2 niche link insertion, social signals, engagement on the post (Like comments, upvotes etc), premium indexing services as well as requesting the site owner to request indexing of the new post in Google Search Console.
If you're looking for links that are truly POWERFUL and want to compete in the niches you thought weren't previously possible, then HighRise is definitely the guest post service I'd recommend for you.
SEO Builder Review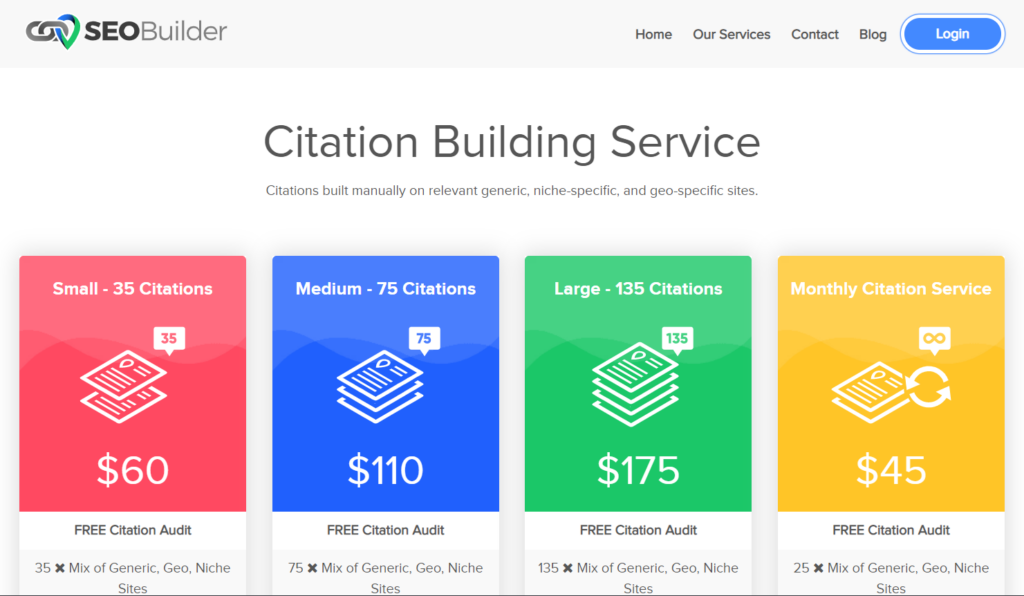 If you're looking for truly manual citations and social profiles, then I don't recommend ANYONE else in the industry and haven't for several years now – SEO Builder's pricing is lower than you'd likely be able to get it done anywhere else for, and the level of quality is unparalleled.
Likewise, most sites will only ever need the 35 or 75 citation package as unlike other services, the indexing rates on these links are far higher thanks to a premium indexing formula that you'll be able to live track for free once your order is complete.
The owner of this agency is based in Scotland, Mr Robert Kirk, and his level of customer service is exceptional! So don't be shy to reach out for what you think you might need, though you'll get a free citation audit inside your order anyway, which makes sure you're picking up all of your competitor and industry's most powerful citations.
RhinoRank Review

If you're in need of cheap links that give you a bang for your buck then RhinoRank is your best solution, they've been the king of curated links for the past several years now and have one of the biggest databases in the game.
Also based in the United Kingdom, you can enquire with their excellent support and get help with custom-tailored campaigns that won't break the bank. I've personally used RhinoRank on many projects, primarily as a means of strong tier 2 links to my guest posts and on my foreign sites, as they accept any language anchor text as well.
MagicPR Review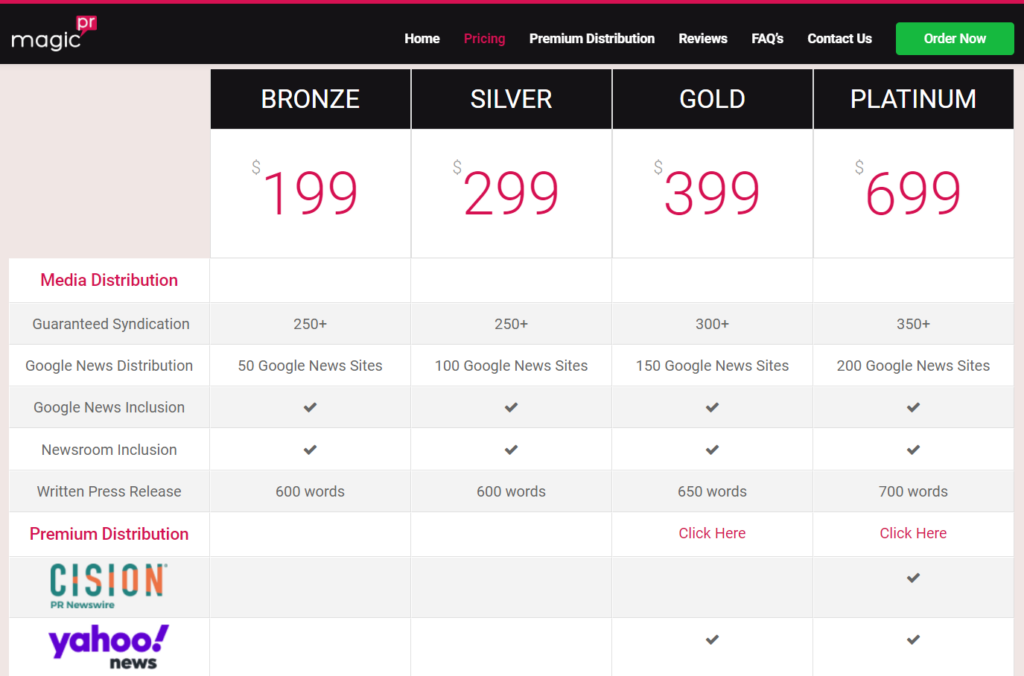 A lot of SEOs will try and tell you that press releases have seen their day and don't have a use anymore, but in my opinion, they can still be a fantastic way to help build foundational links, power up your social profiles or even be utilized to increase the chances of your GMB ranking in local SEO.
For the very affordable price of $399 I've been using the MagicPR press release gold backlink package for exactly that for many years now to great success. If you want to see if it'd be a good fit for you, then you can always get in touch with the guy behind it, who is an experienced PR guru.
Searcharoo Review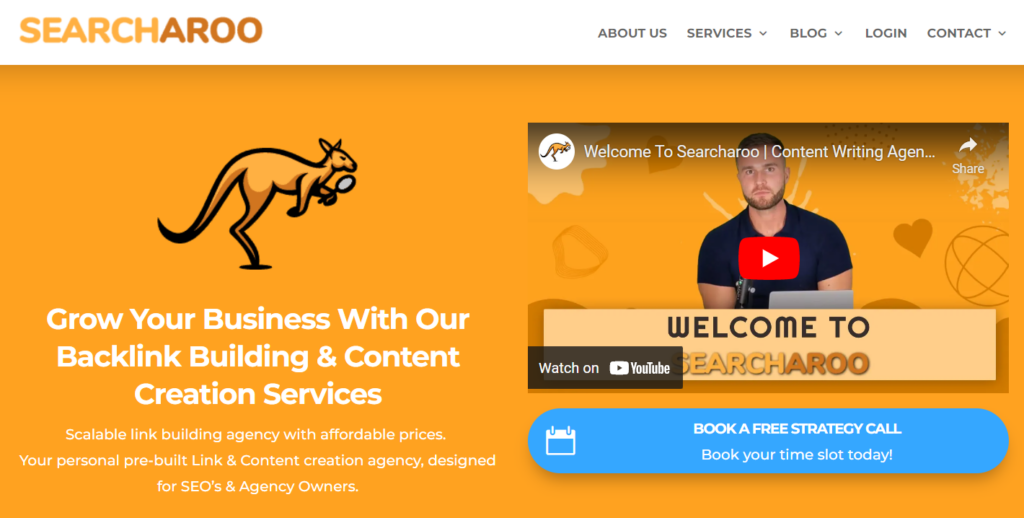 Since changing ownership a couple of years ago now, Searcharoo has massively improved their offerings and if you're looking to boost up your links with a tier 2 package then they have the best one I have tested so far.
You get contextually placed, relevancy based links that only cost $20 a pop – Nowhere else will give you as low a price as that, and if they do then it's more than likely it is a private blog network link which can have it's own risks.
If you need some help choosing what links need a boost then you can always make use of the free strategy call that the company offer as a part of the service.
SignalBoy Review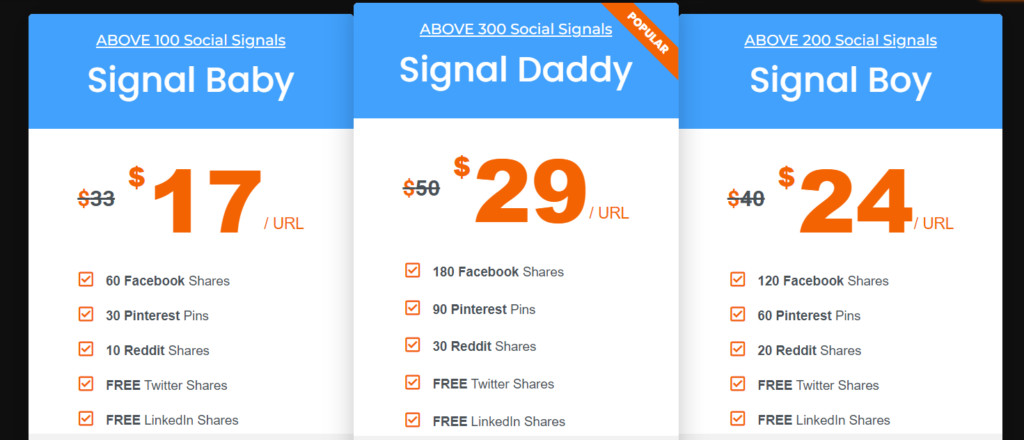 Whilst social signals aren't often directly backlinks, there are still some that count (Even as NoFollow) and they're still one of the most common weapons an SEO can use in his OffPage arsenal.
Whilst the prices might not be the cheapest you will find, the quality of the signals you get and the accounts that will be sharing them (No bots here) is better than any other in the industry.
SignalBoy is the ONLY social signal and social backlink/social bookmark service I recommend.
WikiWookie Review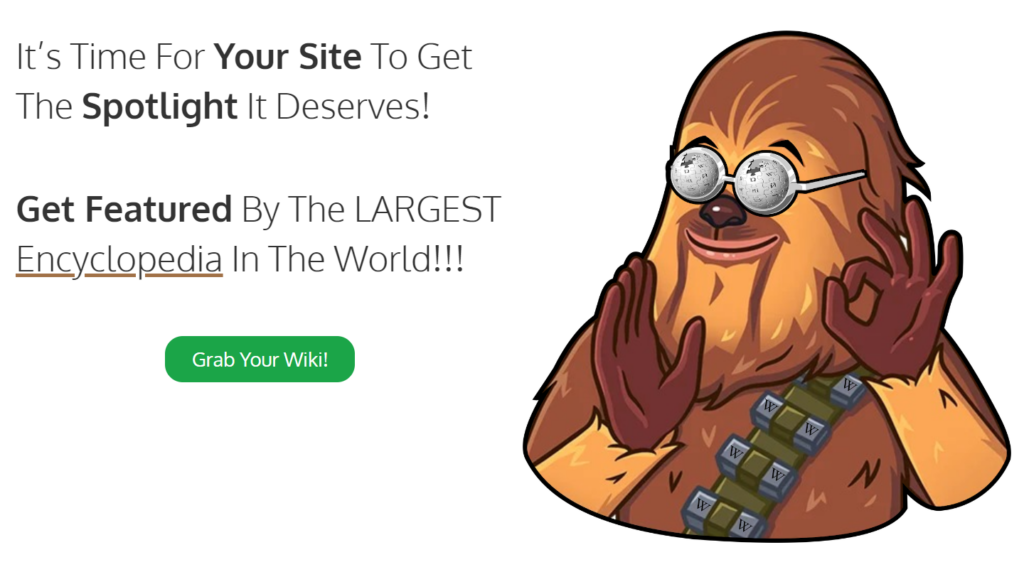 Whilst backlinks on Wikipedia are ALL classed as NoFollow, Google made the tag a hint direct in November of 2019 which means they've become one of the strongest signals.
WikiWookie offers the most affordable solution to quickly get these links in a matter of weeks, and whilst they often aren't on the root Wikipedia domain itself, they have always become some of the most powerful links my sites have ever gotten and for a fraction of the usual cost, you'd pay elsewhere.
Julian Goldie Agency Review

One of the most in demand services in the industry is getting branded mentions in large publications, and whilst HARO is the exact platform that solves the problem, it's also one of the hardest to successfully run yourself and can often result in hours of wasted time.
So using an agency to essentially automate this entire process for you (or your clients) is one of the easiest cost-saving measures and at $400 per placement, you can easily rebill the links for double or even triple the price in some cases.
Bonus Company Reviews
I've given a fantastic list of services above, but you still might be hungry for more and there are a plethora of other agencies that likely deserve a review on this list, but I'll try to give you my top recommendations only.
ReachCreator
Whilst the RC site might quite possibly be the ugliest design in the industry, they're one of the few services that still operate on a Moz DA guarantee rather than Ahrefs.
There are positives and negatives to it all, but I've never been disappointed with any of the links I or my JV partners have gotten delivered whilst the pricing is fair too it can take a while to get your links delivered.
Authority Builders
If you've ever watched Matt Diggity, then you'll likely have heard of ABC or Authority Builders Co., the platform boasts a large database with multiple languages and a premium subscription service that allows you to get VIP support with your orders on everything from choosing the sites to selecting the anchor text.
Loganix
If you're a large scale agency looking for an enterprise level solution to link building, then the BC-based Loganix crew are one of your best options in the industry.
The owner, Adam Steele, is also a notoriously good SEO and has rigorous requirements for his offerings but it often means you'll be paying a premium for them too.
Love To Link
Over the years LTL has improved the backend and frontend offerings of the site, allowing individuals to either access their database or trust them to pick a niche backlink package on their behalf.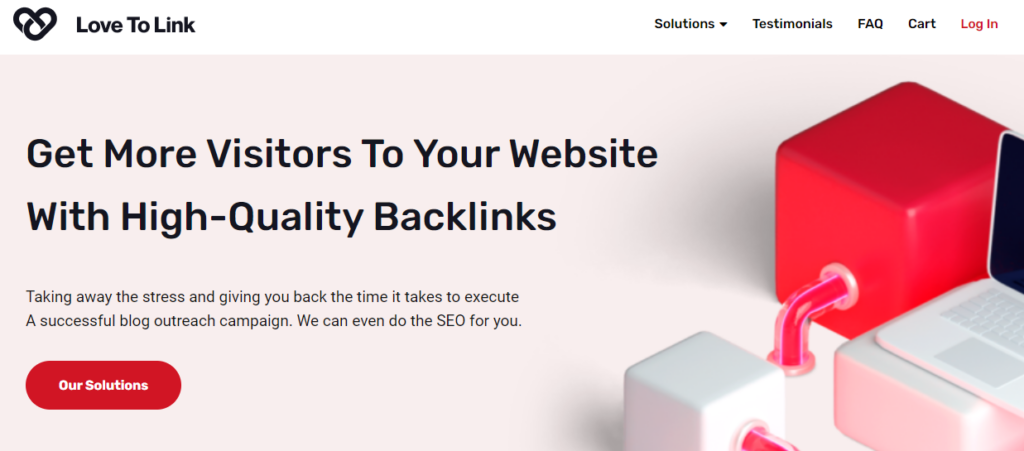 The only reason they're lower on the list is that the database that powers the service is limited in comparison to some of the other similar competitors in this list and in some niches you will very quickly run out of sites to buy links on.
Cheap Backlink Alternatives
Whilst it's all fine and dandy for me to act like everyone can afford to spend thousands or even tens of thousands of dollars with these SEO agencies, the reality is that the vast majority of people won't be able to afford that and will often be off-put by the prices.
There are still a LOT of cheap, high quality link sources out there that can be great for those looking to spend less but still get results and a return on investment.
You can rent monthly private blog network links from companies like SirLinksALot or RankClub, you could also buy some cheap nice edits off RinoRank or Indexsy or even just stick to the foundational stuff and try to use other techniques to acquire backlinks to the site.
The Worst Services You Should Avoid
There are a lot of cowboy companies out there that are looking to overcharge you or build links that could potentially damage or risk the rankings of your website.
Here are some of the companies you should avoid at your own peril.
Fiverr
Whilst the idea of thousands of service providers at very, very affordable rates might be appealing, the reality is that almost all of the gigs designed to link build for SEO on your website will just end up getting your site nuked.
It is a great platform to find a video editor or voice over actor on, but don't try and buy links for $5, or you'll just end up paying someone else to remove them for you.
The Hoth
Whilst they might be one of the most recognizable and longest-standing companies in the link building industry, if you're looking for the definition of overpriced backlinks then The Hoth is your prime candidate.
A D30+ guest post with just 500 words and a min. traffic of 5,000 organic visitors (According to Ahrefs – Which can be easily manipulated) will set you back a whopping $475 over there.
For reference, the exact same guest post at HighRise would cost you about $189 once you've been approved.
BlackHatWorld
There some definitely some good providers on BHW, just the same as there are on Fiverr – But the vast majority of them are low quality, spammy services that were mostly used to manipulate Google's algorithms from the early 2000s.
I don't recommend you go testing them out either, though you can read my experiment here, where I spent $1,000 across various marketplace gigs.
LinksManagement
There might be some hidden gems within the sites database, but the majority of the sites are spammy and have traffic graphs that look like the 2008 financial crisis.
SAPE
Whilst there are obvious ethical concerns about a network owned by Russian oligarch billionaire Roman Abromavich, there have also been a lot of claims of the links coming from hacked websites as well as the fact that Google has routinely deindexed large swaths of their inventory.
Link Building Service FAQs
What Are The Different Types of Backlinks?
There are a variety of types of backlinks – Guest posts, niche edits, citations, social profiles, forum profiles, blog comments, bio links, image links, directories, private blog networks, redirects and many more!
Does Link Building Work?
Yes! Link building works because Google's algorithms use backlinks as a primary way, and often some would say the #1 way, to gauge the authority and relevancy of a page.

That being said, if you don't know what you're doing it can be very dangerous to try and build a campaign by yourself without experience and knowledge – And there are a lot of "guides" online that are either outdated or downright misinformation.
What Are Link Building Packages?
Most agencies and services will offer some sort of link building package that will make the overall price of your campaign cheaper than if you were to buy the links individually.
How Do You Get Free Backlinks?
Depending on what stage your website is at, there are a number of ways to attract links to your website without costing you any money at all! You have the obvious ones like social profiles (Like a Twitter Profile or Facebook Page that links to your site) or platforms you can try to naturally niche acquire traffic from as well, like Reddit or Quora.

There are also other techniques you can do, but they'll involve emailing sites and trying to convince them to link back to your pages. This is usually because one of their pages is linking to a dead page (This is known as broken link building) that your page now fulfils or you want to contribute a piece to their site and get a link in return, which is known as guest posting.
How Does Link Building Work?
Google and other search engines like Bing use backlinks as a primary ranking signal that helps them define the relevancy and authority of a page.

The more backlinks to your page, the higher it will rank on search engine results pages (SERPs). In short, links are like votes for your site.