I've been using Gumroad for close to 5 years now, and in that time I've earned well over half a million dollars from the platform. It's been one of my go-to places to find new content, connections and ideas for my own business.
In this review, I want to show you why it's STILL one of the best platforms to sell digital products or memberships on and how you can use it to turbocharge your business to new heights.
What Is Gumroad?
In 2011 Sahil Lavingia created Gumroad. Gumroad is an eCommerce platform where you can buy and sell digital goods, physical products, and subscriptions.
They describe themselves as "super-simple e-commerce for creators."
Gumroad is an incredibly simple and easy-to-use tool. Users essentially have their own secure e-commerce store through Gumroad. A blogger can link his blog to his Gumroad page, where they can sell any product they like through it. A blogger doesn´t have to create his own landing page, payment gateway, or marketing platform to sell a product.
Today, more than 98,994 creators have sold their work for over $536M collectively. These creators work in all niches you could imagine. They sell info products, monthly subscription services, or paid podcasts. For example, I sell info products on Gumroad about SEO, growing your Twitter account, and more –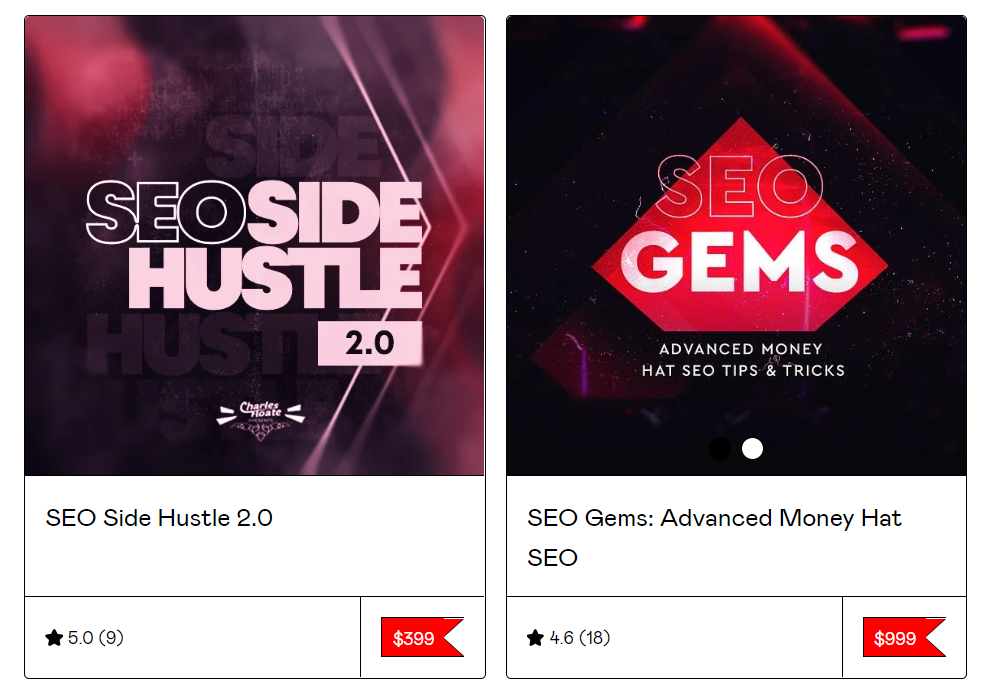 The Founder Of Gumroad
Sahil Lavingia built the first iteration of Gumroad over a single weekend in 2011. Sahil is a self-taught developer who said in an interview that he learned coding by solving each problem he hit through Google.
Lavingia was 19 years old at the time and the first designer hired at Pinterest.
The idea for Gumroad came to Lavingia when he wanted to sell a photorealistic icon he had created. But he realized that the amount of effort it took to sell an item directly to consumers was considerable. So he decided to build a service that would make the process as easy as sharing web content.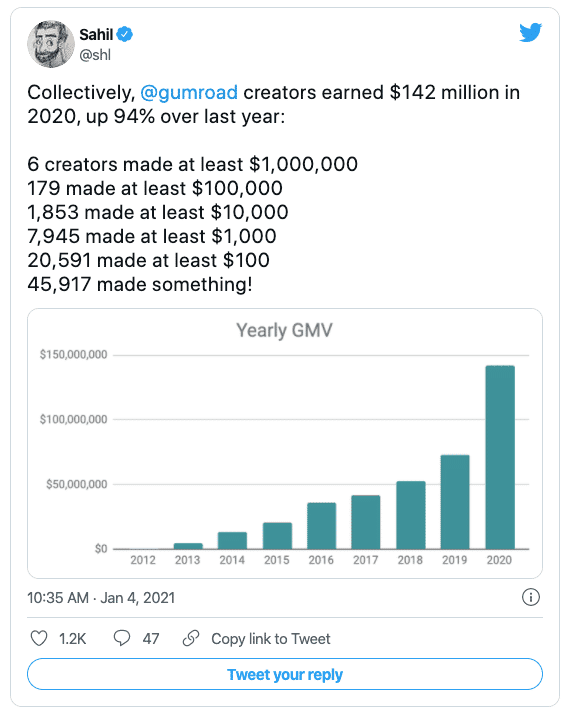 Is Gumroad Safe To Use?
Yes. Gumroad is absolutely safe to use. Gumroad takes significant measures to secure your payment information.
When you buy/sell something through Gumroad, Gumroad does not store your payment details. Gumroad doesn't even have access to your credit card information or your PayPal credentials once you become a seller or a customer.
Even if Gumroad gets hacked, nobody can access your credit card or PayPal information because Gumroad doesn't store this information in its database.
Whenever they detect any fraudulent activity surrounding your account, they'll immediately send you an email warning you.
How To Get Started On Gumroad
It´s pretty easy: You sign up on the Gumroad website and then you can start creating your store. You can start selling within minutes!
You are able to add products that will have a customizable buy button. You can post this buy button on any other website or blog platform you want.
When the link is clicked it directs the customer straight over to Gumroad and they can purchase your product.
Gumroad University teaches you how to drive traffic to your account through programs and resources. Gumroad also provides a variety of tools to help you build your audience. It offers tools like importing contacts to content workflows, analytics, and more.

But remember that having a professional-looking landing page for your product makes a huge difference. Hiring a professional graphic designer to create your landing page is the best way to do it. The more professional your site looks, the more people will buy.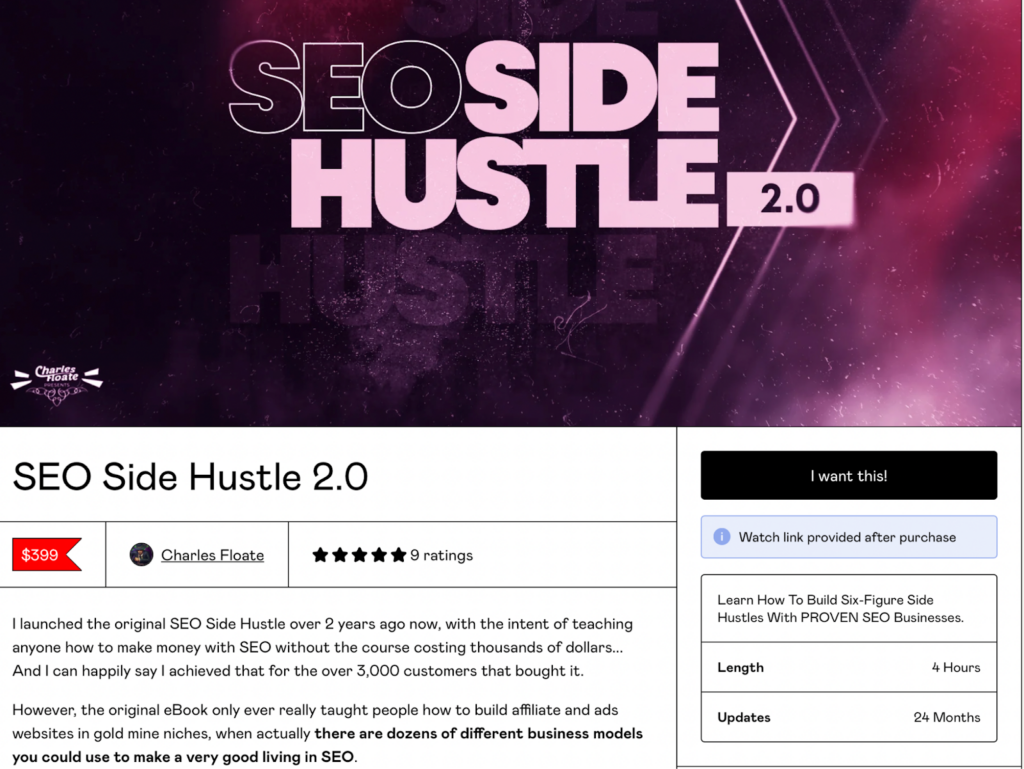 Gumroad is a great way to sell products online. You don't have to pay any fees for hosting this website – but you might want to upgrade to Gumroad Pro for $10 per month to gain access to a few additional features. You simply pay a small percentage of sales to Gumroad on each sale. Any money you earn from purchases can be transferred straight into your bank account.
Downloadable products are the most commonly sold products on Gumroad. Apps, eBooks, videos, graphics, podcasts, and much more. However, you can also sell memberships or physical products.
If you go on Twitter you will see that the majority of the content creators there use Gumroad. The amount of different info products that are sold is endless. From 12-Week body transformation courses to cigar group memberships, to mindset training. You can really sell anything on Gumroad.
Gumroad itself stated: "if you can make stuff, you can sell that stuff on Gumroad."
Gumroad Features –
Email importing
Automatic order updates
In-depth analytics
Offer codes and "choose your own price" payments
License key generation for software
Support for multiple currencies
Options to sell various versions of a product
Rental sales
Shipping charges and customizable SKUs
Sales tax support
Address verification
Recurring subscriptions and memberships
Preorder support
Profile buttons and widgets
Social media support
Automatic workflows
Simple checkout support
Affiliate partnerships
What Are The Benefits Of Using Gumroad?
There are many.
– The landing page template they give you promotes displaying social proof. You can also add your own custom header/product image to make your offer stand out.
– Multiple payment options. You can create one listing with multiple versions of a product at different prices. Also, you are able to give the customer the option to pay what they want or you can just offer them a discount code.
– Gumroad offers plenty of cool ways to upgrade customer management. You can set up lists for people who want to pre-order your next product. And you can choose your own release date. That means that Gumroad verifies cards, but doesn't charge them until your product is ready to go.
– Gumroad supports imported email lists. This makes it easy to bring your followers and existing customers with you into your new eCommerce system. Then you can establish payment and communication flows that will keep your relationships going strong.
For Example, you can:
Set up subscription payment options that let customers pay monthly or yearly for products
Create fixed-length subscriptions: For example, your customers might pay for a course or training support for 3 months at a time.
Combine subscriptions with license keys so that you can sell software to customers more efficiently.
Design memberships that give customers access to specific libraries of content based on their membership level.
Gumroad also helps you to keep consumers happy with updates on the products they´ve bought. Or an announcement that a new product will be released soon. You can even set up automated workflows that deliver thank-you notes and upsells to clients.
Another advantage is that you will get all of your customer's information. A lot better than using a third-party "middleman" solution like Amazon. This helps immensely if you are building an email list and want to keep providing value to your customers after the sale.
Gumroad doesn´t curate your competitor's products to the bottom of your listing, which means your page is all about YOUR products.
Then there is the stats feature: The creator can see how many times his products were viewed, and purchased and where those sales came from. This allows him to shift his focus on platforms where he gets the biggest return on investment.
When it comes to the shipping and handling of physical products, Gumroad offers features like:
Automatically adjusted shipping charges based on where customers live
Manage to ship and improve customer relationships by sending tracking numbers to customers
Set up automatic alerts letting your clients know when their products are being delivered
Verify addresses with the Gumroad algorithm to ensure that you don't send products to the wrong place
Establish variants for different sizes and styles of product
Access customizable stock keeping unit so you can track the inventory for all your products
The Option to choose which countries you want to ship to, so there's no need to worry about getting orders that you can't fulfill
What Does Gumroad Offer Your Customers?
Gumroad makes checking out REALLY easy for your customer. If it is a download, they have your product in a matter of seconds.
After the purchase, the platform creates a personal library for customers who have an account. Your customer has all the products he has bought right there. This makes it impossible to lose products a customer has purchased.
When it comes to subscriptions, the customer isn't forced to commit for an entire year. Gumroad gives you flexibility with your subscription options. Those options are either monthly, quarterly, biannually, or yearly.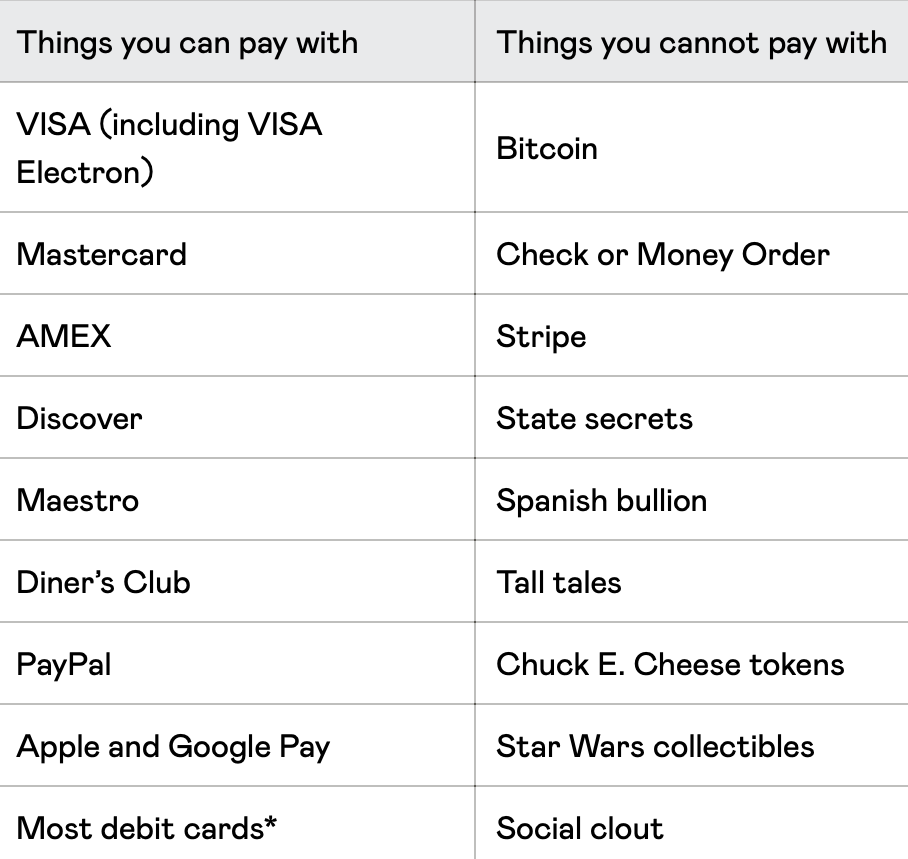 What Payment Options Does Gumroad Have?
Gumroad stands out from the rest of the eCommerce platforms because it doesn't require you to follow complicated steps to start accepting payments.
Gumroad takes care of the payments, chargebacks, and refunds. This makes Gumroad one of the simplest eCommerce platforms to use.
Gumroad Pricing –
Gumroad is one of the cheapest payment processing solutions on the market. It offers a free plan. You can use Gumroad for absolutely free if you want to.
Of course, you can't do everything if you don't pay. You'll still have a great tool that you can use to start selling your products when your budget is low. If you do decide to upgrade to the "Pro" version of Gumroad, then prices will start at $10 per month.
Compared to similar platforms, the fees Gumroad demands are pretty affordable.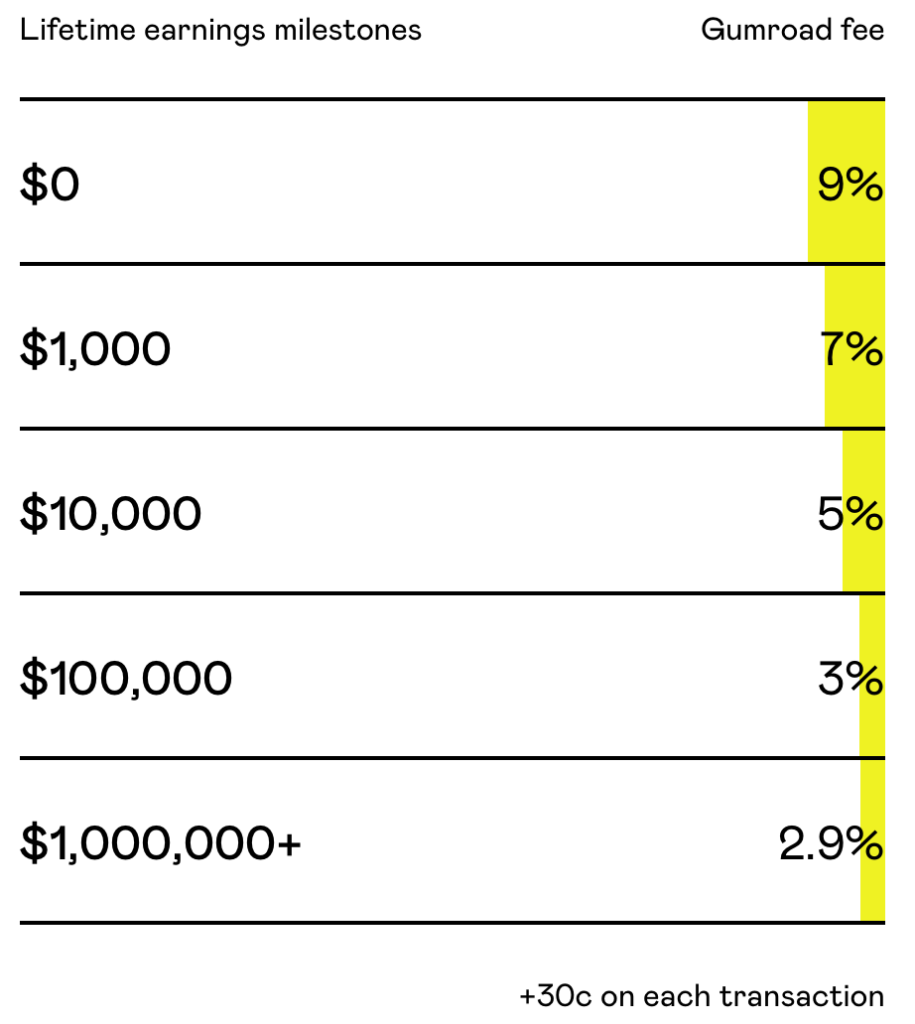 Gumroad´s principle is simple: The more you earn, the less of your profits you have to give away.

The "Discover" feature includes an extra 10% fee. The Discover solution recommends products to buyers who have purchased similar products. This feature works as a marketing boost when you're trying to find new customers.
Gumroads Customer Service
Gumroad offers a very simple user interface. That makes it easier for beginners to start using the platform. If you get stuck there's a knowledge base available that will guide you through any basic questions you might have.
The knowledge base is convenient to use but not perfect. You might not be able to find all the answers to your questions. So you'll have to contact the Gumroad team instead.
Gumroad provides customer service via email. Their service is generally pretty good.
Gumroad Affiliates
Another great way to boost your sales is to get affiliates to sell your products for you.
Your affiliates need to have a Gumroad account for payout purposes. You add them as your affiliate to your product(s). After that, they are sent an affiliate link that looks something like this: www.gumroad.com/a/1234567
Then your affiliates can share your product with the world. When a customer clicks that link, their browser is "cookied" for 30 days. If they buy the products that your affiliate is assigned within 30 days, your affiliate is credited with the sale. Gumroad takes its fee and you and your affiliate split the rest. After 7 days your affiliate can be paid out for the sale.
Adding an affiliate: There are two ways to do it. You either add them manually or let them sign up through an affiliate sign-up form.
1. Adding them manually
You simply go to the affiliate dashboard, click Add affiliate, and enter the email address associated with your affiliate´s Gumroad account. Then you select the products you would like your affiliate to sell.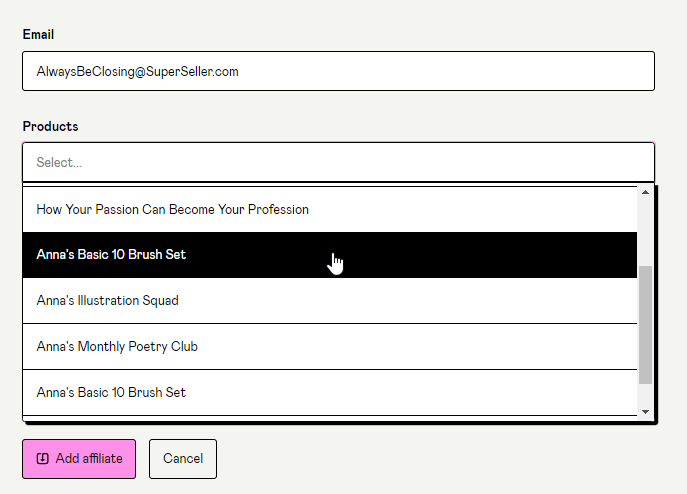 2. Let affiliates sign up on their own
All you have to do is to fill out your affiliate sign-up form. Your affiliates get automatically assigned to any of your published products with a base sales percentage.
When you share your signup form, affiliates who sign up and are approved will be automatically assigned a product and an affiliate fee. It looks like this:
You decide how much commission you want your affiliates to earn. You can set a commission between 1% and 90%. You can edit the percentage, or the products, at any time and have the option of specifying a Destination URL.
Pros of Gumroad
Easy-to-use interface
For digital and physical goods
Free plan, fantastic for beginners
Discount codes are available and you can automate promotions
Accepts all major credit cards and PayPal
It can be integrated with your website
License key generation to verify purchases
Cons of Gumroad
No live chat – only email support
No cryptocurrency-supported payment method
Gumroad FAQs
Is Gumroad Secure?
When something is purchased via Gumroad on a secure browser, that payment will be secured by TLS, with SHA2 cyphers alongside 128-bit encryption. Gumroad transactions are also processed using PCI-compliant service providers.
Is Gumroad Free?
Gumroad is one of the few checkout cart solutions that offers a free version for users. Though the free version lacks certain features and comes with a slightly more expensive transaction cost of 85% plus 30 cents per transaction, it means you don't have to pay monthly for software.
How Do I Start Selling On Gumroad?
Anyone can set up an account and start selling with Gumroad as their primary payment processing system and checkout cart provider. You'll need to choose whether you want to use the premium or free service and then create an account. From there, you can use the Gumroad platform to sell bundled, tiered, or subscription products, as well as memberships, and physical items.
Who Can Use Gumroad?
Anyone who lives in a country that allows payments to be sent via PayPal can start an account with Gumroad.
What Can't You Sell On Gumroad?
There is a list of prohibited goods that you can`t sell on Gumroad, such as used products. Gumroad also doesn't support companies selling services, although digital downloads and many physical products are fine.