The Affiliate Lab is not to be confused with The Lab, which was another course that I reviewed and Matt Diggity was also a part of, I believe it was what spawned this course and is why the names are slightly confusing – The last time I checked, Huge Domains were selling that domain for nearly $5k which seems like a bit of a scam if you ask me –
Hopefully, with all that confusion cleared up now, let's get onto the review introduction.
There aren't many courses out there that will give you as detailed an overview of building and running an affiliate niche site portfolio as Matt Diggity's The Affiliate Lab will.
That being said, I have to give you an HONEST review and I don't agree 100% with how Matt approaches the actual ranking of sites in this course.
Overall though, Affiliate Lab gives beginners a roadmap that has led many students to success and has routine updates from Matt and his associates – Including analysis of algorithm updates, changes within the affiliate industry and much more invaluable information that you won't be found on your regular SEO blog.
What Is The Affiliate Lab?
The Affiliate Lab is an all-in-one niche site building and search engine optimization course created by Matt Diggity of Diggity Marketing.
The course is aimed at beginners and intermediates looking to begin their site-building journey with a game plan they can base their own builds on.
The Affiliate Lab is in video format with some PDF and checklist downloadables that make it a lot easier to remember all of the information that is covered inside the course, because it's a lot!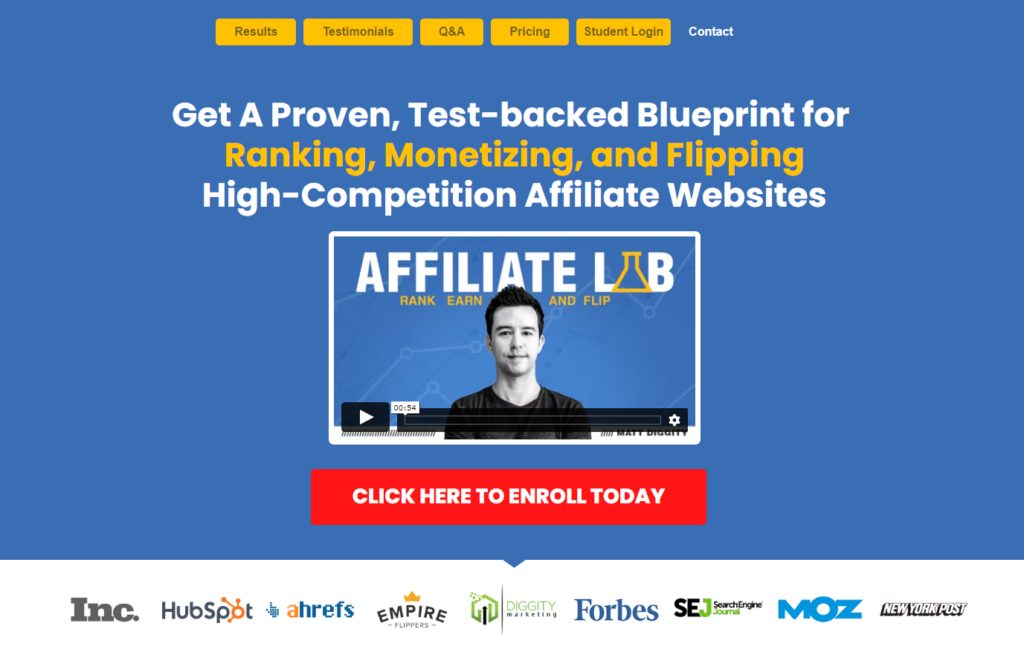 It's gotten over 1,000 students and dozens of success stories spawning from it, which means it's one of the most successful courses I've written about to date and the team behind it should be very proud of the community they've been able to build as a result.
Note: The featured logos are just where Matt has been featured, and not the course itself specifically.
Who Is Matt Diggity?
Matt (Elmore) Diggity was born in Fresno, CA on Jan. 16th, 1979 and is a former electrical engineer turned digital investor and SEO influencer.
He has invested in or owns Diggity Marketing, Rank Club, Lead Spring, Authority Builders, SurferSEO and The Search Initiative
He has spoken across the world at multiple conferences, as well as hosting his own: The Chiang Mai SEO Conference
He founded the Affiliate SEO Mastermind Facebook Group, which now has over 25,000 members
Before relocating to Chiang Mai, Matt lived in Japan, Bali and Costa Rica
He went to the University of California San Diego and graduated with a master's degree in Electrical Engineering (Also known as an M.S.E.E.)
Before quitting his job to become a full time SEO entrepreneur, Matt worked at a startup in Silicon Valley that sold software to microchip companies
Matt based this course on his own company's (Lead Spring) portfolio of niche and affiliate websites, which has seen a lot of success over the years and has added partners such as Jay Yap and Anthony Lam who have both gone on to create their own websites.
Affiliate Lab Review
I would give The Affiliate Lab a 4/5 – The course does a fantastic job of breaking down long-winded processes of building websites into mere hours that can be replicated by just about anyone with a decent enough internet speed, laptop and a couple of hours per day.
Whilst it's not the best place to spend your money learning (for SEO, affiliate marketing or niche sites) on the market overall, it definitely is one of the best and boasts a strong roster of lecturers as well as a well-organized course that could likely teach anyone how to build and rank an affiliate website.
The only problems I have with the course are the lack of content that Matt actually delivers himself, the out-of-date content that could be re-done within a few hours and some of the SEO techniques/tactics I do not fully agree with.
This course is still one of the best courses out there for beginners to spend their money on though and will give you a blueprint framework on how to start your own website without all of the worries and hiccups a newbie has along the way, as you know it works.
Course Structure & Features
The course is built using the Teachable platform, which means it's a very easy, video-based course system – The only downside to using Teachable is that they automatically sort content Alphabetically rather than allowing you to manually place it, which means if you want an exact path you have to think for yourself a little bit.
The course features:
Full-Length Video Tutorials (Though Some Are Now Out-of-Date, e.g. The WordPress Setup Tutorials)
12+ Hours of Content
Basic OnSite & OffSite SEO Checklists (These Are Dissapointingly Short, Only 2 Pages)
Private Facebook Group
6-Figure Flipper Hall of Fame (Not Totally Based On Course Members' Success With The Course)
What's Inside?
The course goes far beyond JUST affiliate marketing, site building and SEO, there are also classes on email marketing, optimizing your life and wellbeing, penalty removal, website flipping and more!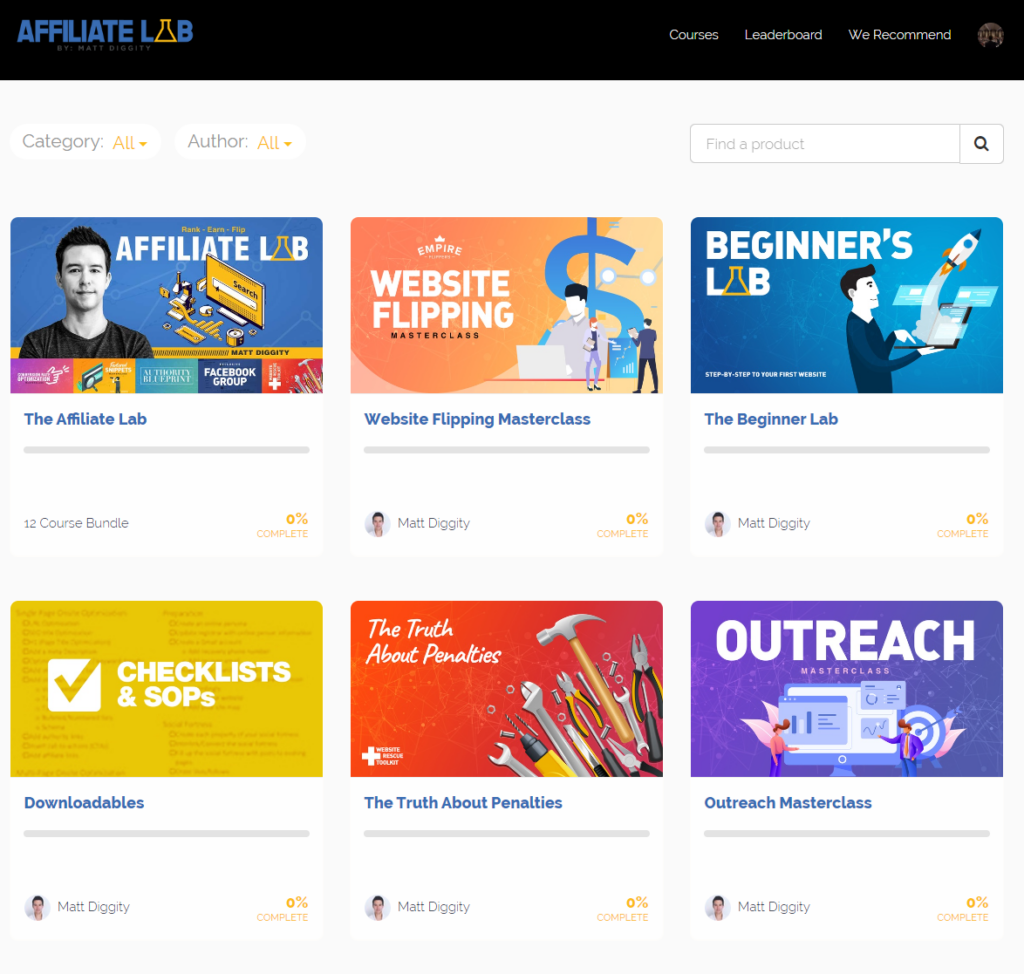 Everything is in either video form or a downloadable PDF, which makes it extremely easy to consume the entire consume in a very short amount of time.
Course Sections:
The Beginner Lab – A complete introduction to building websites with WordPress, getting them setup and understanding how to do basic SEO and use tools like Ahrefs or SEMRush.
The Affiliate Lab – Everything is covered from finding and choosing a niche that can make you a fortune, keyword research to find virtual gold mines, site structure, how to generate content that ranks, an even more in-depth video on-site building, how to win featured snippets, how to Monetize your site, how to do conversion rate optimization, website maintenance, setting up your Google accounts, building backlinks, anchor text analysis, citations, social signals, PBNs, tier 2s, technical audits and much, much more! (That was a mouthful!)
Email Marketing Masterclass – An introduction to email marketing, lead magnets, collecting leads, tools, email blasts, paid ads and even a checklist to boot.
Outreach Masterclass – Getting started with outreach, tools, prospecting, templates, follow-ups and more.
Penalty Analysis + Recovery – Matt goes in-depth for nearly an hour and a half on how he recovered a site that was hit by a Google penalty in 2018.
301 Redirect Mastery – Introductions to 301 domains, how to find the right domains for the job and examples of how to properly vet them.
Optimize Your Life – A bit of a random addition, but we'll take all the content we can get and Matt has hacked his sleep, mornings, health testing and even his gym workouts.
Instructors
Matt is not the only person that is creating videos inside the course, and whilst I have no problem with the several other people that are running courses, it'd be nice to have more of an introduction to them.
For example, The Beginners Lab series (Which is where most people who are just starting out will begin) is entirely made by a guy name Alan, but I still don't know who he is and there are 0 introductions to any of the other coaches – And where there are "Your Instructor" pages, they're normally blank.
There are several other instructors that are properly introduced as they give guest courses, these include:
Nick Swan From SEO Testing
Koray Tuğberk GÜBÜR From Holistic SEO
Kevin Meng (Misspelt Kevyn Meng inside the course) from Freelaholic
All of these guest instructors are highly reputable and have given fantastic contributions, though they all have their own premium courses so you can see restraint in these videos.
Note: Koray is releasing a course soon, but this is his only premium one out right now and it is still very good, though a bit slow-paced.
Who Should Join The Affiliate Lab?
Anyone who is a beginner to SEO and hasn't already built successful niche websites should consider spending the money to join Affiliate Lab and look at becoming your own niche scientist.
Matt's experience is based on his own successful portfolios, though I don't believe he has given away too much and it'd be nice to see more case studies inside the course itself to give examples beyond the stages of just launch and ranking.
The course is concise and offers a lot of value for anyone who is unsure of how to begin their niche affiliate site building journey.
Pricing
There are 2 payment options you can choose from to get access to the course:
2x Installments of $597 (Totalling $1,194)
1x Payment of $997
The price is in line with various other courses of a similar calibre, though I would still keep your eye out for a code so you can make sure you're really getting your money's worth as some of the information is extremely basic and can be found online for free in a similar fashion to this format.
Affiliate Lab Alternatives
There are also courses like Savage Affiliates by Franklink Hatchett ($197) or my SEO Side Hustle 2.0 for $399 – Both of which teach arguably similar things but are more up-to-date and for a much more reasonable price point.
In terms of similar pricepoint competitors, The Authority Site System by Gael Breton & Mark Webster of Authority Hacker is priced at either $997 one-time fee or $249/mo for 5 months – Their course has a far larger content depository and offers lifetime updates, which normally means a new video at least every other week.
No Refund Policy
One of the biggest downsides to the course is that there is a 100% NO refunds policy in place, which means if you are not happy for whatever reason then your money is gone.
This isn't that uncommon in the industry, and I'll often run a similar guarantee for some of my own informational products, just to make sure people don't purchase, use the info then refund it based on a too lenient policy.
Discount Coupon Code
Whilst I don't have a specific code myself, there are various 50% off codes throughout the internet but a lot seem to have expired – So you might not be able to get one these days.
Matt usually runs sales for the course on Black Friday and Cyber Monday, so you can pick up a discount then if you can wait that long!
The Affiliate Lab FAQs
Is The Affiliate Lab Worth It?
I would say it's worth it for anyone who has no experience in affiliate, SEO or niche website building but people who have some level of experience should look out for a discount code and get it at a much cheaper rate than the $997 price tag.
Is The Affiliate Lab Good For Beginners?
I would say The Affiliate Lab is one of the best courses a beginner can pick up to learn how to start building their own affiliate site portfolio from scratch.
Is The Affiliate Lab A Scam?
No, Matt Diggity is a well-known and respected member of the SEO community – The Affiliate Lab reflects that and he keeps it well updated for everyone that's a member.
Is Affiliate Lab Too Technical To Understand?
I would say definitely not! The one downside to the course when it comes to understanding it, is that there isn't any specific glossary or key for newcomers.

That being said, it's not too hard to Google one or even Google individual words you don't understand from the training and find out the definitions very quickly.
Where Does Matt Diggity Live?
Chiang Mai, Thailand.
How Old Is Matt Diggity?
Matt Elmore was born on January 16, 1979, in Fresno, California.